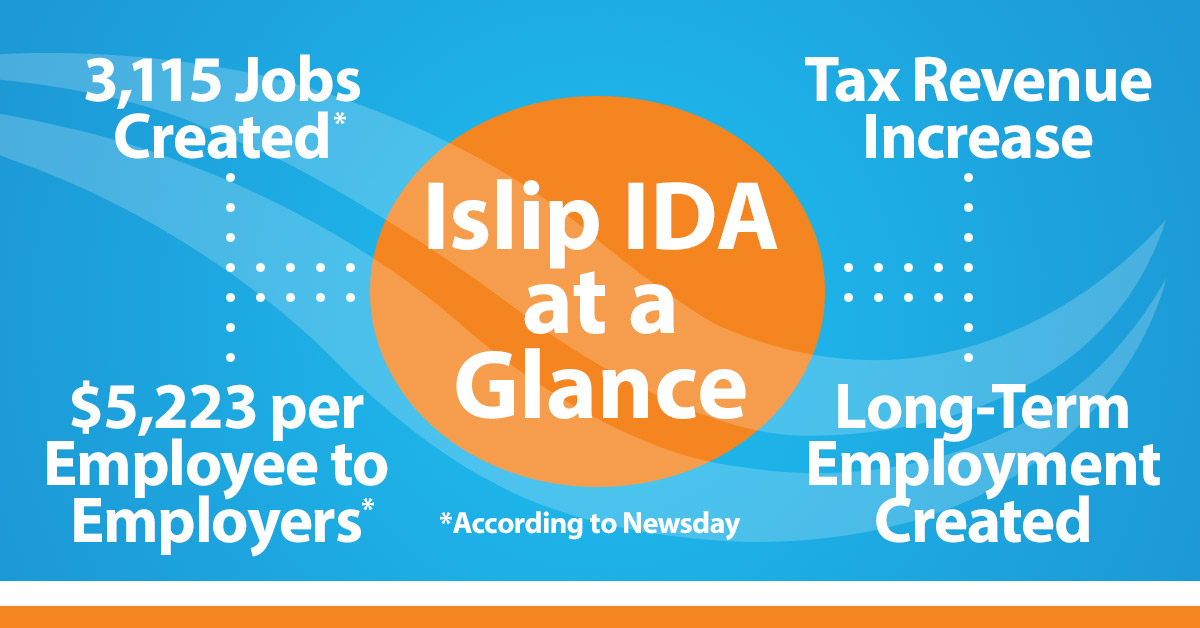 In
Spite
of
Critics:
New
York
IDAs
Created
198,522
Jobs
Long Island IDAs created 24% of 198,522 jobs in NYS. In the wake of the Amazon HQ2 fallout, taxpayers have turned a more critical eye towards IDAs, scrutinizing their effectiveness, practices, and how it impacts what seems like ever-increasing tax bills for citizens on Long Island.
Despite pushback that IDAs provide tax cuts to companies paying employees low salaries at short-term jobs, rather than creating long-term employment for skilled workers, Long Island's eight IDAs created more jobs than the rest of the state's nearly 100 IDAs. And while many critics wrongly believe that IDA's are "giving away" tax money, the truth is that most IDA projects result in an increase in property tax revenue above that which previously existed on the property, due to new construction.
According to Newsday, 3,115 new jobs were created in the Town of Islip, providing $5,233 per employee to employers last year. The Islip IDA continues to lead in this space, contributing to an increased workforce year over year. A continued increase in jobs, by any means, reduces the local and national unemployment rates, reduces strain on public resources and helps stimulate local and state economies.
Although, Newsday reports that the mission of IDAs, "Under a 1969 state law, is to grow the economy by granting tax incentives to expanding businesses that retain and create jobs," the Town of Islip does much more than that. The role of an IDA is to anticipate the needs of a corporation while relocating or expanding for the mutual success of the business and the town's economy.
BEYOND TAX INCENTIVES FOR JOB CREATION
Working with an IDA during business relocation or expansion helps uncomplicate the process. With so many moving parts and things to consider, IDAs provide site location and loan assistance and can even help move permit approvals along faster to get businesses up and running sooner.
Scoping out commercial real estate is a timely process. But by working with the Islip IDA, businesses have access to corporate infrastructure and industrial parks, not to mention Industrial Development deals and SBA 504 loans.
Find Out How the Town of Islip is Working for You by Contacting Bill Mannix at 631-224-5512 or Email ecodev@islipny.gov