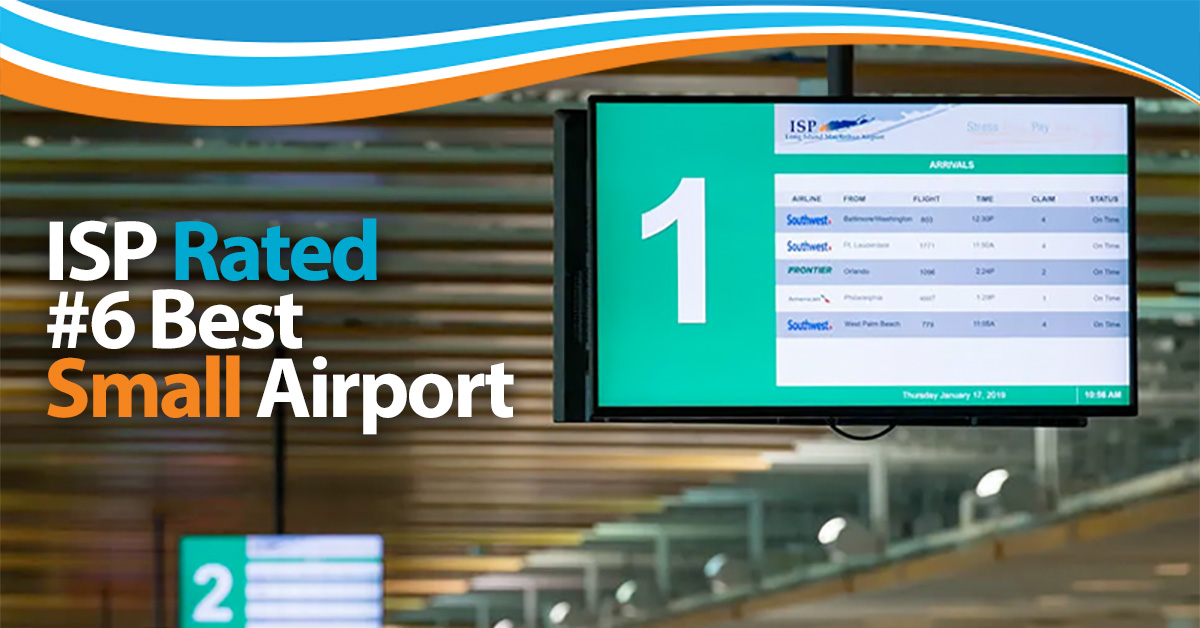 Long
Island
MacArthur
Airport
Named
6th
Best
Small
Airport
in
Nation
Proving Stress-Free Air Travel Has Major Impact on Consumer's Choices

For airline travelers wishing to avoid the crowded city airports like JFK and LGA, MacArthur Airport (ISP) has proven to be a great option.
In fact, Islip's own MacArthur Airport has been voted #6 in the Top 10 Small Airports category of USA Today's 10Best Reader's Choice Awards. Twenty airports were nominated, among which 12 are larger than MacArthur in terms of passengers.
USA Today's 10Best nominees are determined by a panel of experts and winners are determined by reader's votes.

The airport prides itself on stress-free travel, highlighting the many benefits and conveniences of choosing a local airport, yet acknowledges that this award would not have come if it weren't for the votes of its passengers. "We are so grateful for the support we receive from this community, and for our loyal customers who recognize our convenience," said Commissioner of Aviation Shelley LaRose-Arken.

"This vote of confidence for MacArthur Airport means so much to us. We appreciate the support from Long Islanders, and from our community partners who used their social media platforms to get out the vote for MacArthur Airport because they know how important it is for Long Island," said Islip Supervisor Angie Carpenter.

"We work hard each day to offer customer excellence, new options and amenities at the airport. We take the headache and stress out of air travel," added Carpenter. In addition to an exceptional on time record, the airport currently boasts free wifi for all travelers, a variety of restaurant options, a tranquil and free-to-use mother's room, two pet relief areas and for Town of Islip residents, the added benefit of a resident's parking permit which, for an annual fee, allows for free parking at the airport, making a weekend getaway or a family vacation over a school break all the more convenient and budget-friendly.

"We believe this top ranking further demonstrates our ability to conveniently serve New York travelers. We thank this community, our airlines, and our dedicated airport staff for their ongoing commitment to customer excellence," LaRose-Arken said. MacArthur airport currently serves 5,000 passengers daily and nearly 2 million annually.

For more information about the economic development and growth of the Town if Islip, contact Bill Mannix at 631-224-5512 or ecodev@islipny.gov