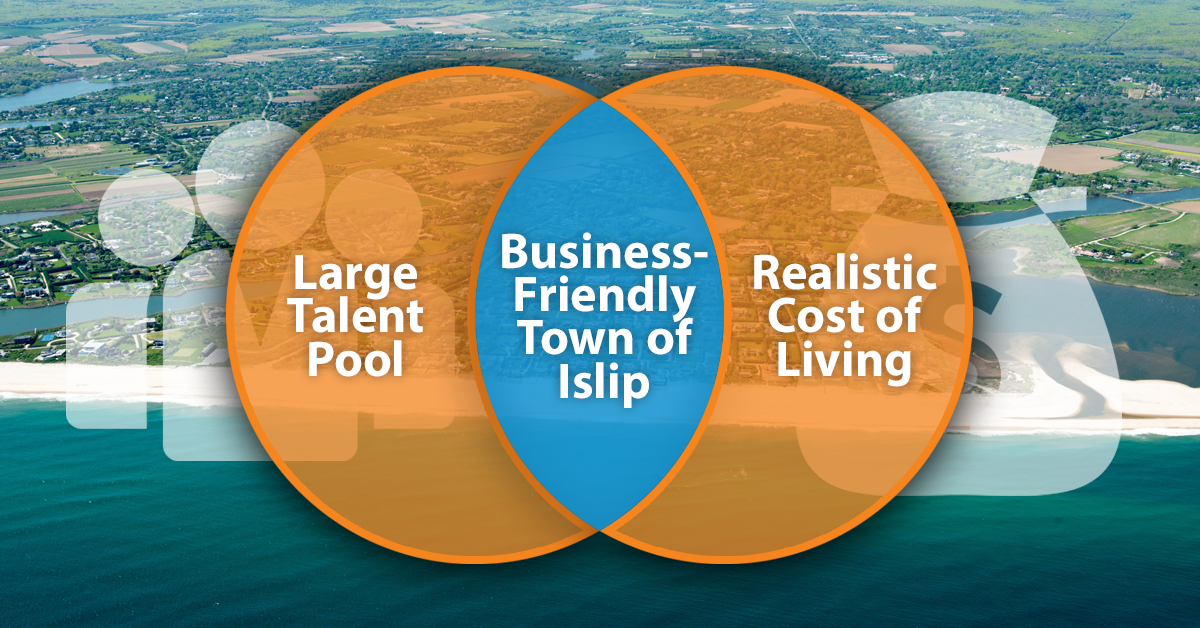 Large
Talent
Pool,
Realistic
Cost
of
Living
Makes
This
Long
Island
Town
Business-Friendly
The number one rule in real estate -- as you've probably heard before -- is location. This applies to more than residential properties so businesses looking for a lucrative region to grow in will need to carefully consider their surroundings. Coastal cities on both sides of the U.S. have long attracted powerful industries and good for reason: there's so much to offer. From premier colleges and universities to an educated talent pool and effective infrastructure, it's simply easier to operate where the action is.
New York's Long Island, which juts out into the Atlantic Ocean east from New York City's main boroughs, offers the best of urban and suburban perks. Misconceptions surrounding Long Island -- including the cost of living and doing business -- have been greatly exaggerated and the Town of Islip Office of Economic Development wants to share all that there is to offer here.
Educational options: Students who earn a degree from Long Island colleges and universities will have a huge advantage in the job market. Among the prestigious institutes of higher learning here include Hofstra University, Stony Brook University, Molloy College and the U.S. Merchant Marine Academy in Kings Point. What's more, all four received a nod in U.S. News & World Report's "Best Colleges" rankings for 2019. In response, a Hofstra official said "the satisfaction and graduation rates we've measured indicated [students] have experienced greater success." A happy college graduate is one who is more likely to stay put and contribute to the local economy, which brings us to the next point.
Established Industry: Long Island is already home to sectors that can help workers lead a comfortable and fulfilling life. The Town of Islip Office of Economic Development would like to point out the key sectors of advanced manufacturing, aerospace, professional and financial services, pharmaceuticals and medical as major employers. A manufacturing firm looking to move to Long Island will surely appreciate the 4,000 acres of land zoned for industrial uses in Suffolk County's Islip. Boasting a centralized location on Long Island, residents here can commute to New York City or stay local and help firms that have picked Islip as their home base.
Talent Pool: Islip isn't New York City, nor does it try to emulate the hustle and bustle to the west. What the town is, however, is a place where 86 percent of residents have a high school degree or higher. Moreover, 30 percent hold a bachelor's degree or higher. A median household income of just over $94,000 and mean travel time to work of 27 minutes makes Islip a haven for the middle class – and for the companies looking to provide jobs to the lifeblood of this country.
Quality of Life: As a solid upper-middle class community, the residents of Islip enjoy a lifestyle that offers no shortage of entertainment. We can attribute the vibrant quality of life to the numerous arts and cultural institutions that are boosted by our "beachside" lifestyle. Easy access to some of the best beaches in the U.S. is a major perk of residing in Islip because, after all, it is Long "Island" we're talking about, so access to the ocean is never far away. Additionally, residents enjoy spectacularly designed golf courses, sprawling parks and first-rate ball fields. As it pertains to the latter, Islip is home to the Long Island Ducks, who are the region's only independent professional baseball team. Visitors and Islip residents alike make the most of our destination shopping centers, museums and restaurants, too, which keep the economic engine of our area humming.

There's always something to do in Islip and our jam-packed calendar of events and festivals gives long-time residents and newcomers alike the opportunity to get involved and get to know each other. These folks quickly learn that Long Island isn't as costly a place to do business as some have made it out to be. One look at top-tier colleges, robust job opportunities, the comfortable lifestyle and a myriad of entertainment options and you'll soon see all that Islip, and Long Island, have to offer!
To learn more, visit the "Why Islip" section of our website or reach out to us at ecodev@islipny.gov or (631) 224-5512.